Terrace & Roof Waterproofing Protect Your Home
GOT A WET TERRACE or ROOF? MUSTY ODORS?
Protect Your Home With Our Proven Solutions & Long-Life Warranty.
A Dry, Healthy Home Starts Here.
Contact Your Local Contractor or call 929-780-0173

Terrace and Roof Waterproofing Services
---
First, you need to know why we need waterproofing for the building`s floor, roof, terrace, or walls. Here we will talk about the roof and terrace. The roof is the most affected part of a building, directly impacted by rains and storms.
It is often the leakage through the terrace that causes severe dampness in the ceilings, thus spoiling the look of expensive interior paints.
We provide waterproofing and Nano-coating solutions. Through a series of inspections, we check the water-sealing capacity of the buildings every now and then and ensure their quality.
We use materials such as waterproofing construction joints, waterproofing adhesive tapes, Polyurethane grouting chemicals, Waterproofing powder, Waterproofing liquid, and Waterproofing compound. We have the sound product knowledge and give complete
Terrace & Roof Waterproofing | What You Should Know!
waterproofing helps the terrace and roof of the building in providing resistance towards water and damping. For the modern infrastructural patterns and for a well-furnished and well-finished building, it is very much required and important for the building to be waterproof.
our professionals interact with clients and understand their needs to provide this waterproofing service accordingly. You can avail of the services at very economical prices at our organization.
Our organization is among the renowned service provider of an excellent array of Waterproofing Services in India. We are using the best quality waterproofing materials ideal for excellent protection and achieving an elegant ambiance for long-lasting functionality.
Waterproofing is one of the most important, yet neglected subjects because the common man is not exposed to the latest technology. They just wonder and are shocked when seeing leakage in their building, but most of the time they consider it inconvenient rather than a serious matter.
1. Do you notice any moisture or seepage in-ceiling during monsoon?
2. Does your ceiling leak during heavy rains?
3. Are your ceiling plaster flakes falling?
4. Are your wall paint flakes puffed out?
What is the Solution for Terrace & Roof :
---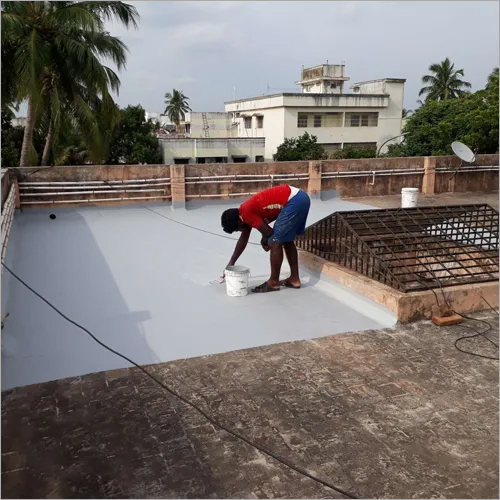 1. Apply a waterproofing system on the terrace/roof.
2. A good waterproofing material performs the resistant property both to positive and negative water pressures.
3. Surface to be treated should be clean and free from dirt, oil, and other loose material before Waterproofing
4. Concrete or masonry surfaces should be fully cured before application
5. All surface cracks, undulations, and voids must be repaired appropriately before the applications
6. Correctly grout all construction joints using polymer-modified mortar
7. Surface to be treated with chemicals must be in a saturated surface dry condition before application
Application: Terrace & Roof Waterproofing :
---
1. Terrace Waterproofing Before Plastering for new construction
2. First, Wash the roof-terrace surface and make it dust-free for new and old buildings too
3. Filling all cracks by waterproofing materials for the old building
4. Applying the First coat for Filling the invisible cracks & small holes with diluted Psv.
5. To strengthen the surface apply a Second & Third coat of Silicone-based cement waterproofing
6. Put a layer of Asphalt or bituminous materials OR put Coal tar pitch if required
7. Waterproofing process Complete If applied by Sprayer Machine. But Using Paint Brush you Apply the Forth Coat of waterproofing for 100 % waterproofing Surface.
8. Other applications may be required according to water tank damage
Suggested Product for Terrace & Roof Waterproofing :
---
1. Brick Batt Coba waterproofing if required
2. Waterproofing Coating by (------)
3. Cementitious Waterproofing by (-----)
4. White Waterproofing by (------)
5. Polymerized Silicone Vinyl Base Coating by (-----)
5. APP Membrane by (-----)
6. Tarfelt by (-----)
7. Polyplasticfelt by (-----)
8. Polymer Acrylic cementitious chemical coating by (----)
9. Acrylic chemical coating by (-----)
10. Tar based Liquid membrane chemical coating
11. Polyurethane Chemical Coating (-----)
12. Rubberised Chemical Coating by (-----)
Note- The above products may be used according to the requirement. We use different companies' materials as per the need, and our preference; Dr. Fixit, Sika, Ultra Tech, Asian paints, Berger paints, and some other good company materials.
How do We Work?
---
1. Our comprehensive waterproofing solutions can keep your structure free from any harmful chemical attack.
2. We provide you with the best quality waterproofing materials for terraces/roofs Waterproofing
3. There is a wide range of waterproofing materials and chemicals used these days and we teach you all about it but suggest you the right one according to your budget.
4. We are working in the waterproofing industry for the last 20 years and have well-trained workers, experienced supervisors, and engineers.
5. We have completed many projects for HCL, DLF, DMRC, SAIL Orissa, Ranchi Water Pipelines, and other big and small Private Houses/Appartments
6. We provide a warranty for the works
We do Pre and Post Tile Fixing Services.
---
Waterproofing Services
The Suggestion of Chemicals and Coatings etc.
Fixing Services With Warranty
White Cool Coat etc.
Our Service Features:
Top Quality Materials

Excellent Finishing

Supreme Functionality

Reliable and Efficient

Helpful and Beneficial

Trusted and Safe

Long-Lasting

Cost-efficient

Widely used and Appreciated

100% Leak Stop
Our Application Area:
Basement
Water Tank
Terrace/Roof
Reservoir
Sump
Toilet/Bathroom
Water Retaining Walls
Expansion Joint
Swimming Pool
WE USE THE BEST MATERIALS
Why Choose Us?
---
Best Class Services for All Your Waterproofing Needs
Our trained workers spread across India, tend to all your waterproofing needs, providing you best in class solutions, which would last your structure for a long time; without leakage and dampness.
Ph. No. : +91-929-780-0173
Email : info@mrwaterfix.com